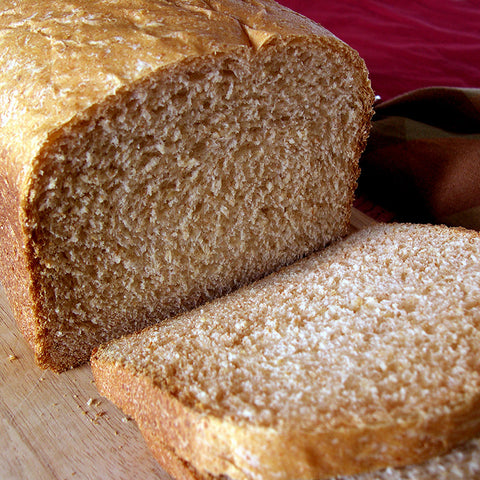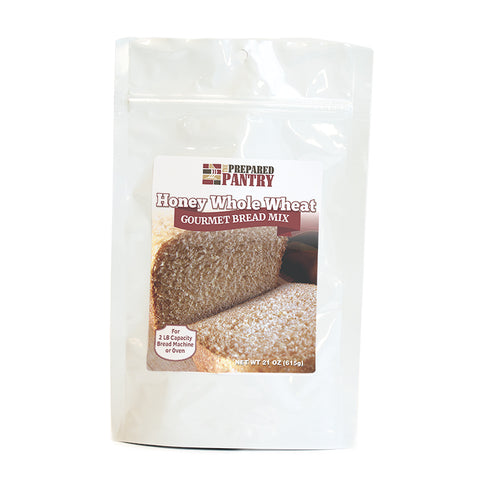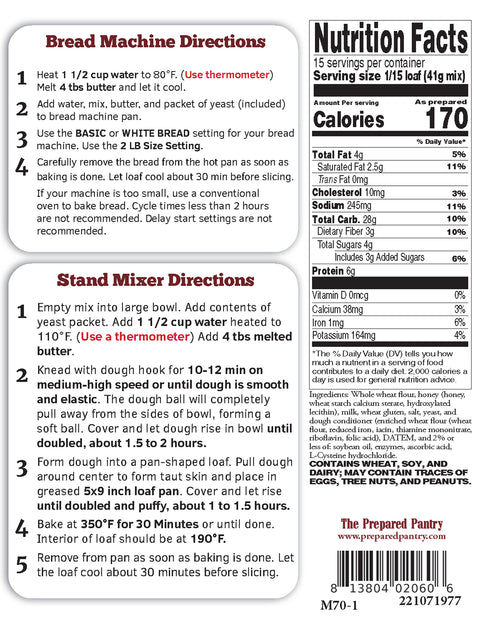 The Prepared Pantry
Honey Whole Wheat Bread Mix
Make this with your bread machine, stand-type mixer, or by hand.
Frequently Asked Questions
Try this hearty, healthy, 100% whole wheat bread made with honey.
This is a remarkably soft, moist bread for a 100% whole wheat bread. What's the secret? It's the honey and the dough conditioner.
Honey is hygroscopic--that is, it gathers moisture from the air, not dries out as wheat flour alone does. It will be your favorite most healthy bread.
If you make this bread in your bread machine, water temperature is critical. Please use a thermometer to measure water at exactly 80 degrees. A ten-degree difference in water temperature can double the growth rate of the yeast. These bread mixes are satisfaction guaranteed when you use a thermometer.
Add these to your cart and enjoy the sweetness of honey wheat bread.
The honey wheat bread is delicious. It's my favorite I'm addicted. Thank you so much.
Makes a great loaf of bread.
Big big bread
This is the largest loaf of bread I've ever made. Spectacular!!!
My go to bread mix
I always have this on hand and use it for hamburger buns, rolls or just a loaf for everyday. I sometimes add buttermilk to mix and slightly increase water. Keeps well.
Moist, Delicious Bread
Another of my favorite breads from the Prepared Pantry. It produces a very soft, delicious bread that's perfect for just about everything. Sometimes I put honey roasted sunflower seeds in the mix with the bread machine. But with or without the add-ins this is a wonderful bread.