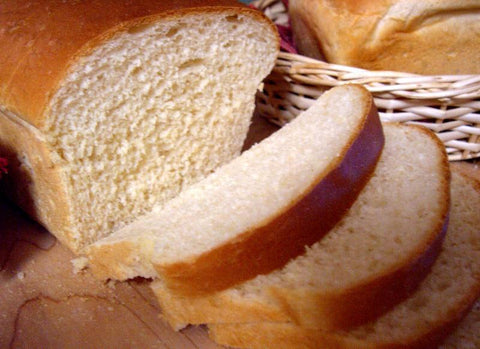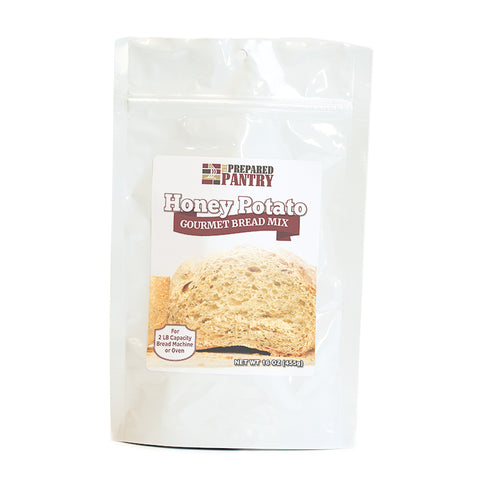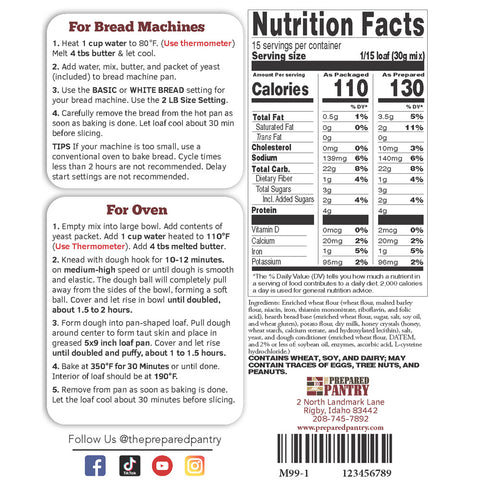 The Prepared Pantry
Potato Honey Bread Mix
Make this with your bread machine, stand-type mixer, or by hand.
Frequently Asked Questions
Indulge your taste buds and elevate your baking prowess with The Prepared Pantry's Potato Honey Bread Mix—a culinary gem that seamlessly blends the wholesome goodness of wheat flour, the sweetness of honey, and the heartiness of mashed potatoes. This thoughtfully crafted mix is designed to transform your baking experience, delivering a perfect loaf of homemade bread every time.
Fabulous homemade white bread made with Idaho potato flour, honey, and milk

Pure white bread, beautiful, wholesome, and good from Idaho's mountain valleys

Sweetened with honey--no sugar added

Double soft--both honey and potato flour keep bread soft and moist (hygroscopic)

Makes a big, tall loaf

Makes great soft rolls and buns

Especially good for sandwiches and French toast

Can be made in your bread machine or oven
Key Features
Premium Ingredients
Our Potato Honey Bread Mix boasts a carefully curated blend of high-quality ingredients. From the finest bread flour to the rich flavor of honey and the unique addition of mashed potatoes, this mix is a testament to the brand's commitment to delivering excellence in every bite.
Versatility In Bread Recipes
Unlock the potential of your culinary creativity with the versatility of this mix. Craft a variety of bread recipes, from classic wheat honey potato bread to innovative variations that showcase your personal touch. The mix provides a solid foundation for experimentation, allowing you to explore and tailor your creations to suit your taste.

Golden Brown Perfection
One of the standout features of this bread mix is its ability to yield loaves with a golden brown crust that's both visually appealing and delightfully crunchy. Achieve bakery-quality results effortlessly in the comfort of your own kitchen, impressing friends and family with your baking prowess.
Incorporating Potato Flakes
The inclusion of potato flakes adds a unique twist to the traditional bread recipe, imparting a velvety texture and subtle flavor to each slice. Experience a delightful combination of the familiar and the extraordinary in every bite.
Whole Wheat Flour Enrichment
For those seeking a healthier option, the addition of whole wheat flour ensures that your homemade bread is not only delicious but also packed with the nutritional benefits of whole grains.

"This bread stays soft forever."
Well, not quite forever, but longer than you expect. This a great bread for sandwiches, French toast, and everyday use.  Check the reviews.
"This bread makes the best crème brûlée French toast ever,"--Erica Sellers
Since it's made with both honey and potato flour, both hygroscopic, they will keep your bread moist and soft for days. 
"Our new favorite! This honey potato bread is delicious. We made it in our breadmaker . . . the outside is crisp, and the inside is super soft and full of flavor. Still fresh and tasty three days later." 
Debra DeHaan
Try our Potato Honey Bread Mix! It's sure to become a new family favorite--or we'll give you your money back.
Good, needs a bit more honey
Potato Bread
Haven't made the Potato Bread yet.
A Must Have!!!
The flavor and texture are amazing!!!
Great bread mix
First time at trying this. It was awesome!