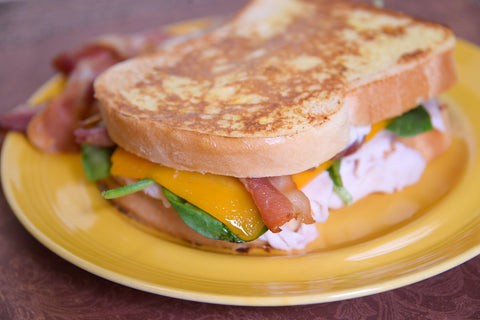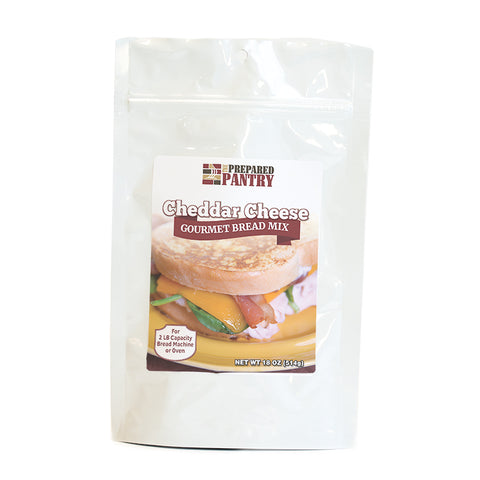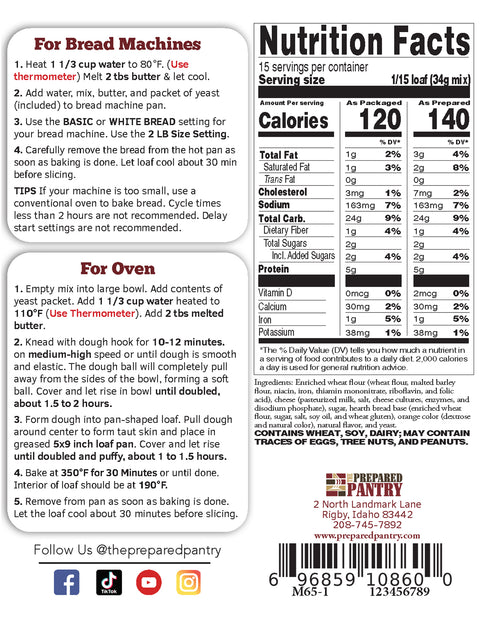 The Prepared Pantry
Cheddar Cheese Bread Mix
Make this with your bread machine, stand-type mixer, or by hand.
Frequently Asked Questions
This is a wonderful cheddar cheese bread made with real cheddar cheese.
Everyone loves cheese bread. This is a moist, flavorful bread made with real cheese. It's great with a meal and makes terrific toast. We think you'll really like it for sandwiches, especially grilled sandwiches.
Makes a perfect crunchy toast or chewy bread for soup or sandwiches
Makes perfect bread in all popular 1 1/2 to 2-pound bread machines--or in your oven.
SAF gourmet yeast packet inside.
Directions and tips for perfect bread are included. You can make this bread in your bread machine, by hand, or with a stand-type mixer.
Cheddar Cheese Bread
Yet another delicious bread mix.
It is a delight to taste the bread as well as the filling in a sandwich. The Cheddar Cheese Mix is a clear example of this; my actual cheddar cheese in the sandwich I make is complemented by the additional tang from the bread.
Cheddar is Better
I've bought it more than once. This time I added Instant Sourdough powder. Everyone loved it.
Great for sandwiches!
Perfect bread for ham and cheese sandwiches, or toasted with soup.