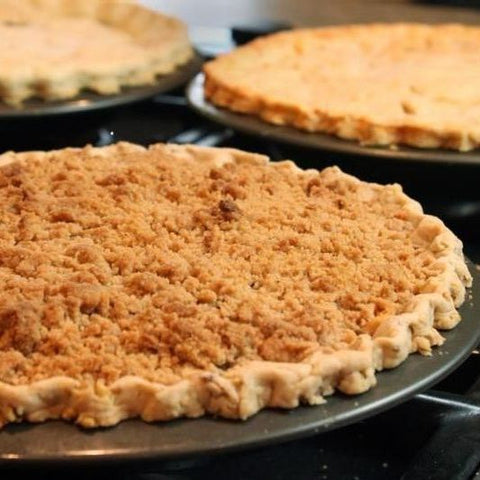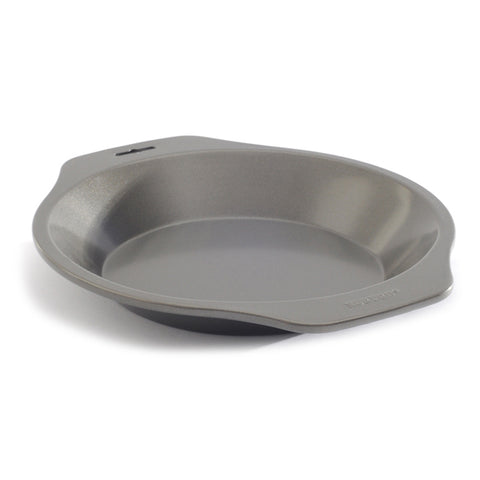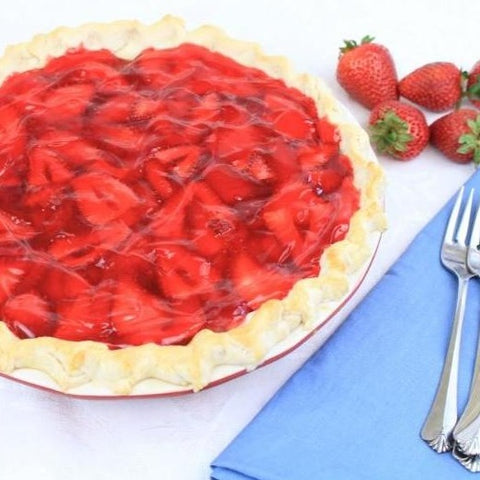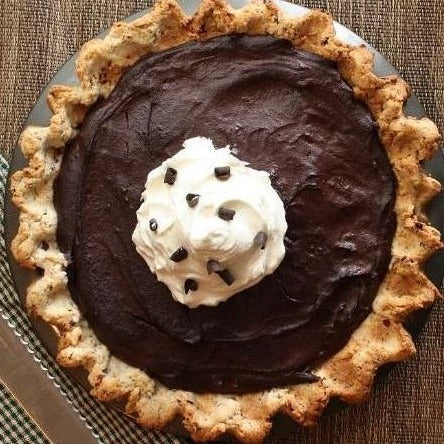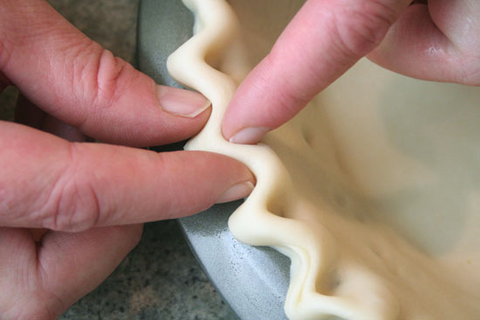 Norpro
9 inch Professional Nonstick Pie Pan (See an easy way to form a pie crust.)
These are certified professional pie pans!
They are the only pans we know that will bake a double crust pie properly and is so nonstick that you can slide a pie out of the pan and onto a serving platter for presentation and slicing.
If you spend much time with our emails or on our site, you'll notice that many of our pies are removed from the pan before they are sliced--the nonstick finish is that good. There are several advantages:
Certified Professional Grade heavy-duty 9-inch pan
Superior nonstick surface
Handles for easy removal from the oven without getting into the filling or meringue
An aluminum pie crust shield to reflect heat and protect the crust
If you want to bake a perfect pie every time, use a nonstick dark pan.
Fruit and other pies are dense. It takes a lot of heat to bake through. Light-colored pans reflect heat while dark pans absorb heat.
You want your pie crust to be completely baked, crispy, not soft--no "soggy bottoms". That's difficult when you have light-colored pans. It's tough to drive heat through a pie from the top.
Removing the Pie from the Pan
The presentation is much nicer. Slide the pie from the pan onto a cutting board or serving plate. The pieces are much more attractive. You get clean cuts on a flat surface on a cutting board and you don't break up the slice digging it from a pan. You never scratch your fine bakeware because you never touch it with a knife.
To remove a pie from the pan, let it cool completely. Then gently twist the pie to make sure there are no sticky points.
Do not try to lift the pie from the pan. Simply tip the pie on a gentle angle slide the pie out.
This reason alone is reason enough to own a set of these pans.
Pies!
Took me years to realize it but metal pie pans are better than glass. And these are perfect
Pie crust always comes out perfect, not soggy
This is the second pie plate like this I've purchased & the only pie plate that cooks the pie crust perfectly in my oven. Never soggy or over browned. I can't wait to bake some homemade pies for Thanksgiving this year. Do not using a metal knife to cut the pie. You'll scratch the dark metal!
Bottom of crust nicely browned.
Most of the time my crust bottom doesn't brown the way I like them. Not with this pie tin! I've only used once so far but it turned out perfectly golden brown and not doughy. Also, even with the peach juices spilling over, the crust did not stick to the pan. Wonderful! Very happy with this purchase!!!
Not as advertised.. bottom crust
Not as advertised.. bottom crust damp and sticks
Review
I recently won an apple pie contest using this pan, and my prize was a Kitchen Aid range! I have made many, many pies in all sorts of pans, and this is my hands-down favorite! I never have to worry about soggy bottom crusts with this pan. Though not fancy, it is simply the best!!!